Riding Lessons and Horse Training
Training Programs
We have several trainers that work out of our facility. You may bring your own trainer with you if they are insured and approved by management.
---
*Punk Horse Training, the managing company at Groveland Equestrian Center offers lessons in a variety of disciplines including general horsemanship, huntseat, jumping, western, speed events, showmanship, trail, etc. Several lesson horses are available for use. Vanessa can be reached at 248-459-5515
---
*Barbara Reis travels onsite often. Contact management to schedule a lesson with her at 248-459-5515.
Brilliant Reflections trainer Barbra Reis has over 35 years of experience taking riders from absolute beginners to confident competitors. She holds a B.S. in Equine Studies from Centenary College in New Jersey, a  British Horse Society Assistant Instructor's certificate from Porlock Vale Equestrian Centre in England and is a USDF Bronze and Silver Medalist who has shown thru Prix St. George.
"We cater to riders of all levels who want to bond with their horses and form a  partnership, regardless of discipline. We offer a COMPLETE horsemanship program, which includes learning fundamentals of caring for a horse as well as riding it. We use biomechanics to help riders learn how to use their body to communicate with the horse in a way he understands. A primary focus is on the correct seat and balance of the rider. We offer dressage training, saddle breaking thru Intermediaire as well as "balanced" seat and lunge line lessons. We also follow the classical dressage training scale for training of the horses. We help our students achieve their riding goals, including winning many awards, both as class and show champions, and as year-end winners in dressage and eventing." -Barbara Reis
---
*Mary Bradshaw specializes in dressage and hunter on the flat. Ms. Bradshaw has extensive experience with groundwork and preparing a horse for higher level athletics. She can be reached at 561-358-9594.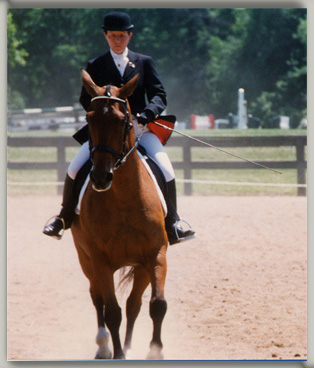 ---
*Kash Cobb from Savage Performance Training offers lessons in a variety of disciplines with a heavy focus in the speed, gaming, and fox hunting areas. Click HERE to visit her page or give her a call at 248-210-8123.
---
Massage and Rehabilitation Therapy
*Cadence Ridge Equine offers massage therapy onsite. They also offering  Equine Electro-Acupressure, and Theraplate Services. Learn more here: http://www.cadenceridgeequine.com/equine-therapy.html or give Caitlin a call at 248-431-1048.